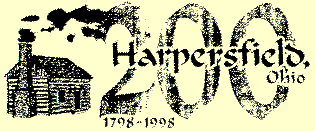 The Alexander Harper & Elizabeth Bartholomew Bicentennial
Reunion
Commemorating the founding of Harpersfield Township on June 28, 1798, when Alexander Harper, His
wife Elizabeth Bartholomew and a group of 25 pioneers landed on the shores of Lake Erie to establish an
outpost on the New Connecticut Western Reserve.

Click on picture descriptions below to see reunion pictures. (More to come!)
Use the scroll bars - the reunion pictures are BIG!
Can you spot yourself?





This site maintained by Rick Harper
Images copyright 1998
All rights reserved